Welcome to Dave Kaufman's Home
New for Fall 2017 - I played synth in The Objections as part of a "Battle of the Bands" at Law Rocks NYC on November 2, 2017 at the Gramercy Theater in New York, NY. I played a Hammond B3 Organ and a synth playing sounds on an iPad.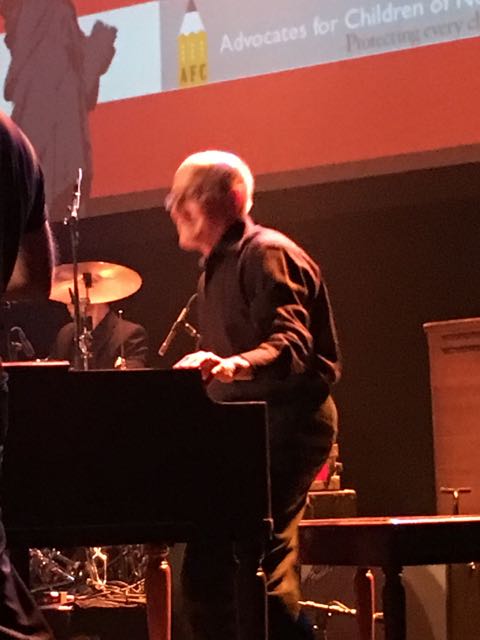 I have my solo recordings (and the story behind them) on my solo story web page where you can listen to a whole bunch of my songs, some over 30 years old. In 1999 I played in a reggae-ish band called The Motives.
2011: Read my interview on the Colorado/New Wave Punk Rock website about The Nails and The Ravers.
The memories go way back!
I have a single on CD Baby, Amazon.com
and iTunes (and possibly other download sites) called Oh Yeah.
It's only US 69¢ on both CD Baby and iTunes. C'mon and make it viral. Thanks!

Dave "Bucktooth" Kaufman 1966 or 1967
Permanently ... In Serious need of redesiging!
Check out songs by the Motives, a band I played way back in 1999. Check out their page and enjoy.
The Nails' remastered Mood Swing, Dangerous Dreams and Hotel for Women CDs are currently available at The Nails web store, The Nails MP3 Store, Amazon.com and available for mp3 downloads practically everywhere.
For 1 1/2 years (1999-2000) I made entries on a web page of random thoughts. Today they call this a blog.
But ... enough about me. Yeah, I played keyboards in The Nails for a long time. Yeah, I co-wrote arguably the two most well-known Nails' songs: our influential cult hit 88 Lines about 44 Women and Home of the Brave, both of which continue to get airplay many years after its release. Yeah, our popular follow-up "Things You Left Behind" still remains "undiscovered" except for our fans. Yeah, yeah, blah blah, I also created sounds for one of the now hard-to-find first Micro Jammers musical toys! (George was working at the sound design company and invited me to play on them.)
These pages are dedicated to the memory of my mother,
Paula Kaufman, my brother George Kaufman and my grandfather, Alexander Kaufman.
| | |
| --- | --- |
| | Here's a picture of my brother George, my mom and myself -- North Miami Beach, winter 1986, taking a break during the recording of The Nails' Dangerous Dreams. It's hard to believe I am the only one alive now ... |
Thanks for visiting!
Official Nails' Information | Hear My Songs | On The Road 1999
Dave Sounds Off | George Kaufman's Website
HS Reunion Pages | My Cat Abby
My Home Page
Write me and "Let It All Hang Out!" at
dak8844@gmail.com
Disclaimer: A musician friend of mine called me the Thelonius Monk of Rock due to my minimal style after playing on his recording session. I am, not in anyway, comparing myself to the sheer genius or ability of Mr. Thelonius Monk.