Saturday and Sunday, August 8-9, 1999 -- Paul, Louie, Milo & I packed the minivan in the Tribeca section of NYC. We deferred to Paul's expertise as to the positioning of the various instruments, amplifiers and accessories...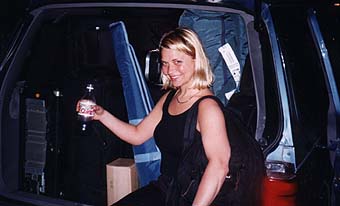 Rebecca sends us off as Louie started out driving through the Holland Tunnel to I-80. We all got tired but persevered through rainstorm in PA. At Kylertown I got coffee and Reese's peanut butter cups, woke up and started driving at around 4 am. How did I do it -- through sheer will power or something! Drove through driving rainstorm with virtually no visibility since I hadn't discovered the "defrost" button, but made it to dawn on the Ohio Turnpike where I turned it back over to Louie after we stopped at a rest stop with a Starbucks.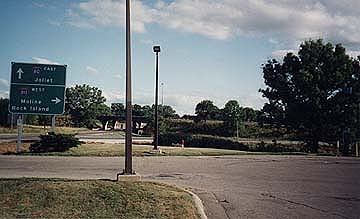 Somewhere in Illinois.
I did my second stint from suburban Chicago area in Illinois almost to the Iowa border but I couldn't make it and had to turn it back over to Louie. Louie drove slower than us but that's his way. Louie became a driving "monster" later on though. During some of this time we listened to many tapes and some of my tunes.

I went to sleep but managed to take a pic of Mississippi River crossing at the Quad Cities. We stopped at Iowa City where Rebecca's alma mater Univ. of Iowa was located. She showed us around as we stopped and looked at Hubbard Park where we're gonna play an outdoor gig in September as well as the Airliner Club where we'll play that same night. We all had good pizza there, an interesting variation on the deep dish pizza.
We finally got to Rebecca's parent's house in Ames but first stopped at a gas and convenience store stop called Kum & Go, kind of obscene, the way they spell, you know, Kum! Rebecca guided us to Ames, through the cornfields and the development where her parents live. I'm writing this on the bed and will be sleeping shortly. I am really tired as it is hard to get any more than a half-hour wink time while driving especially an all-nighter!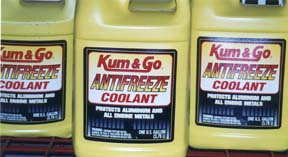 Warhol Would Be Proud!
Monday & Tuesday, Aug. 9-10
We woke up late and went to Des Moines to check out a club for Iowa playing date, Rock Island, that had an adjacent outdoor caboose and balcony, a "railroad" motif. Luis the booking guy was cool and we met the reporter Molly Brown for the local alt. entertainment paper. We then found a music store so Louie could get a new practice gadget by Zoom. It was important for Louie to be able to practice the bass while in the minivan. I brought along a portable Casio keyboard and Rebecca sung along to the latest radio hits.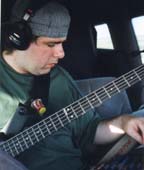 Louie Practicing the Bass
We didn't get onto I-80 toward Wyoming until after 4 PM. Rebecca thought it was too late to see her friend Dana in Denver where we originally planned to stay but Dana was lookin' forward to seeing "Becca." Rebecca called her and Dana said she got mattresses for Louie and I and got her apartment ready. So we went to Denver. The usual plethora of truck stops, beef jerky mania, a high security convenience store (Plexiglas jail for the cashier) near Thornton (a nice Denver suburban neighborhood?) prior to getting onto I-25 south. Nebraska was real big and long as usual, etc. etc. We met Dana in southern Denver and she was friendly and we quickly went to sleep since it was almost 5 a.m. One obvious discovery each time you take a cross-country road trip, you rediscover how rich the USA is in corn!!!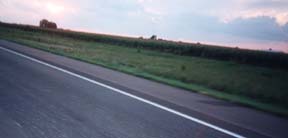 Nebraska cornfields.
To Next Trip Installment -
The Wild Wild West
!